Pawn Shop Watches in Pleasant Hill, CA
Get Cash for Your Watches
Do you have a collection of watches you want to sell in Pleasant Hill, CA? Are you a collector who wants to peruse new pieces for your watch collection? Pleasant Hill Coin & Jewelry Exchange is ready to buy, sell, or exchange timepieces that are either new or used. Whether you want to buy or sell a new or pre-owned watch, we're the store to come to. With a highly trained and experienced team, you'll receive an accurate, fair assessment—which means you'll get nothing but the best prices. Stop by today to buy, sell, or exchange with our experts!
Our collection includes:
Vintage
Antique
Pocket Watches
Modern Watches
Name-Brand Watches
Rare Collector Watches
Visit us today to discuss your watch collection for sale or pick up a new watch you'll love for years! We look forward to working with you.
Characteristics We Consider When Buying & Selling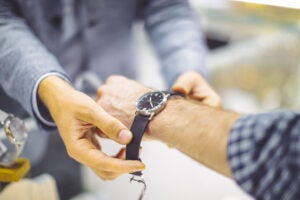 Our team of appraisers looks carefully at specific details about watches when buying and selling them. We share our findings with clients to establish a professional relationship. Our trust and honesty are what have kept us in business for over 25 years. Some clients may not know how much their watches are worth. Some of the most important characteristics we consider are:
Color
Construction
Weight
Brand
Condition
Dial lamination
Clasp
Why Sell and Buy with Us?
For over 25 years, we've been helping our community of Pleasant Hill get the most for their used watches. We understand that watches can hold special meanings as we pass them through generations and wear them every day. We take careful consideration when examining watches for selling and buying. Our team of on-site watch experts takes into consideration many factors when buying and selling watches, which play a role in our evaluations. We investigate the color, weight, construction, dial lamination, and clasp—which ensures you get a dazzling, stylish watch! If you want to sell a watch, we will fully break down our evaluation so you understand our final quote, which will always be extremely competitive. And since we sell directly to our retail clients, it means you'll get the highest possible payout for any merchandise we purchase from you.
Interested in seeing how much your watch collection is worth? Visit our store today to chat with our friendly and knowledgeable watch specialists for a zero-obligation appraisal and assessment. You may be surprised to learn how much your watch is worth!
About Pleasant Hill Coin & Jewelry Exchange
Pleasant Hill Coin & Jewelry Exchange has been proud to be Pleasant Hill's favorite spot to buy and sell watches for over 25 years. We've been family-owned and -operated the entire time, giving back to our community with great deals in both buying and selling watches and watch collections. We guarantee that we are not just another pawnshop to get cash quickly. Our friendly and informative team will help you get the best deal on your watches while helping you understand values and prices. We take our time to provide unmatched customer service, no matter if you're selling one watch or a closet full!
Visit Us Today
Whether you are trying to find watches for sale or are looking to sell watches in Pleasant Hill, CA we appreciate the consideration of the possibility of doing business together. Other services we provide include quick and collateral loans and buying and selling jewelry and rare coins. You can also learn more about our jewelry exchange here. No matter which of our services you need, we guarantee competitive prices and rates! The next time you visit us, check out our watches for sale, or sell watches in Pleasant Hill, CA, for some fast cash in your pocket.
Our Values
Family owned and operated.
In business for over 25 years
Expert in watches on premises
Expert coin appraiser on staff.
Expert Diamond Dealers
Transparent Transaction