Sell & Buy Jewelry in Pleasant Hill, CA
Get the Most for Your Jewelry
Grow your jewelry collection or make cash from yours by buying and selling jewelry at Pleasant Hill Coin & Jewelry Exchange today! We're your one-stop shop for buying, selling, and exchanging your gold, silver, or diamonds. We've been in business for years and employ only knowledgeable experts at identifying and appraising jewelry of all types. We offer an extensive selection of jewelry, ranging from 10K to 24K jewelry, platinum jewelry, religious jewelry, rings, watches, and much more. Are you looking to clear out some space in your jewelry boxes and cabinets? We accept a wide range of jewelry and offer a fair evaluation on the spot through one of our experienced staff members, giving you immediate cash. Stop by today to buy premium, high-quality jewelry at an affordable price or sell your jewelry in Pleasant Hill!
Types of Jewelry We Buy & Sell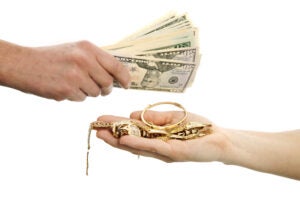 Our ream enjoys buying and selling all types of jewelry, regardless of the style, century, size, or worth. Many pieces are unique, and we love exploring their value and providing you with the best possible deal. Some of the most popular pieces of jewelry we buy and sell include:
Diamond earrings
Colored stone jewelry
Religious jewelry
Wedding sets
Bracelets
Watches
Coins
How Do I Get the Most for My Jewelry?
While the world of selling your jewelry can sound daunting, it doesn't have to be. We make it easy to sell your jewelry for great deals at our shop. Whether you've been sitting on a large collection or recently inherited one and are looking to make cash, we're here to help. One of the best ways to get the most for your jewelry is to bring it into our shop. Our team of licensed appraisers has years of experience helping our customers throughout Pleasant Hill get the most for their collections quickly and pain-free. We are a no-pressure shop. After we appraise and provide your jewelry with the price, we would purchase it from you, you are under no obligation to sell to us. We're friendly and open to discuss your pieces and their value.
Why Sell to Us?
When it comes to pawning jewelry or finding jewelry for sale in Pleasant Hill, CA, it's important to find a trustworthy, reliable jewelry store. At Pleasant Hill Coin & Jewelry Exchange, we do just that. Our expert staff provides detailed, fair evaluations for any jewelry you want to sell (even if it's broken, damaged, or unfashionable) and offers you a fair price for your fine jewelry. If you're looking to buy a piece of jewelry, we offer competitive prices and many deals on our jewelry pieces for sale. Some of the pieces you can buy or sell include diamond earrings, bracelets, wedding sets, and much more! We look forward to meeting you and learning about your jewelry collection. Our team is always buying pieces of all types, sizes, and styles.
Visit Us Today!
Whether you're looking to sell some or all of your collection or just window shopping, feel free to stop by our shop and chat with our friendly and helpful team at Pleasant Hill Coin & Jewelry Exchange. Get fair prices and amazing deals today and receive instant cash payouts for all the pieces we purchase! We also buy, sell, and exchange coins and watches. And if you need a collateral loan, don't hesitate to contact us immediately. We appreciate your consideration to sell or buy jewelry for sale in Pleasant Hill, CA from us. We are excited to hear from you.
Our Values
Family owned and operated.
In business for over 25 years
Expert in watches on premises
Expert coin appraiser on staff.
Expert Diamond Dealers
Transparent Transaction