We Buy & Sell Silver Coins in Pleasant Hill, CA
Do You Want to Sell Silver Coins?
You've finally finished your thorough purge of your attic, or perhaps you've been tasked with renovating granddad's old storage shed, and you've discovered a trove of silver coins. They might be worth something. The expected headache of finding a good vendor for them gives you pause, so you put them away until an opportunity arises.
You've come to the right place. Pleasant Hill Coin & Jewelry Exchange has operated in the field of buying rare coins for more than 25 years, and we've earned our reputation by dealing fairly with clients who want to sell silver coins.
The Best Place to Sell Silver Coins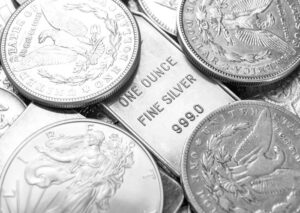 If you've come across a collection of silver coins and want to turn them into cash, figuring out where to sell silver coins becomes the next question. A few options might spring to mind. Auctions have a decent track record for valuation and returns, but they also have some steep requirements that are the opposite extreme of wholesale shops in terms of turnaround. Waiting for bids on an item can be quick, or it can take a long time, depending on the auction you use and the demand.
Pleasant Hill Coin & Jewelry Exchange has operated in this business for more than two decades.
How Do I Sell Silver Coins?
With us, selling silver coins is a matter of an in-house visit, where your collection will be expert to determine their value. You can expect to receive fair returns based on the assessment of our coin experts, each of whom have years of experience in this specific field. You can also expect no credit or background checks, since we pay solely based on the value of the coins and operate in confidentiality.
Helpful Tips for Selling Silver Coins
Before you start researching how to sell silver coins, we recommend you perform your own evaluation of their value. The extent to which you research the coins is your decision, but the more information you have going into an exchange, the more you'll know what's fair.
We also recommend taking steps to secure the coins while you look into their value. This could be in a home safe, or a safety deposit box, or anywhere they're not left out where they can be lost or mistaken for regular currency. While it is possible the worth of the coins is minimal, it is also possible that they are more valuable than you realize.
What Else Do I Need to Know About Selling Silver Coins?
It helps to know that silver coins are usually valued using the following criteria:
Demand – A coin's value can be affected by its current demand among enthusiasts, hobbyists, and collectors.
Rarity – Like any collectible, the fewer there are, the more it's worth.
Condition – Wear and tear affect the value of any collector's item, but this is extreme in the case of silver coins. One coin in fair condition might be 200 times less valuable than one that is pristine and uncirculated.
Market conditions – What's silver trading for on the global commodities exchange?
Visit Us Today!
If you're looking to sell your silver coin collection for cash in Pleasant Hill, CA, we're your best option! We stand by with coin experts to provide fair and competitive value for each collection, so you just need to contact us today or visit our location at 3266 Buskirk Ave today.
Our Values
Family owned and operated.
In business for over 25 years
Expert in watches on premises
Expert coin appraiser on staff.
Expert Diamond Dealers
Transparent Transaction