Sell Your Diamonds in Pleasant Hill, CA
Where to Sell Diamonds
We all accumulate items as we grow older – some of it junk, some of it valuable. While not all of us have the luxury of owning diamond jewelry, there are many cases where one of these stones sits in a jewelry box, never worn. Rather than embark on a long journey of varied appraisals and time-consuming auctions, there is a way to clean out those jewelry boxes and put cash in your pocket without the hassle of multiple inquiries.
Pleasant Hill Coin & Jewelry Exchange is the definitive answer to these situations, providing our clients with the expertise to gain fair returns for diamond jewelry for the past 25 years and counting. We are happy to lend this expertise to all who walk through our doors, whether they are looking to buy diamonds or sell them.
Reasons to Sell Diamonds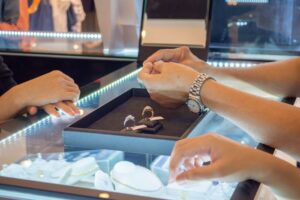 The reasons people look up how to sell diamonds will vary. As is often the case with expensive jewelry, a diamond piece can represent a bond. Maybe it was an engagement, or a memory of lost love. While it might not necessarily bring emotional closure, receiving a windfall for the diamond can help with many of life's other concerns, such as:
Helping pay college tuition
Renovating a home
Paying off a car
Getting out of debt
Funding a reprieve from work
Upgrading your computer
Many individuals receive heirlooms passed down from relatives they hardly knew, which have no sentimental value. Some bought the ring during a better financial time or regretted the decision, and are seeking some sort of recompense. Whatever the reason, we can help you sell diamond jewelry without incurring more headaches.
How to Sell Diamonds
There are different means to sell diamonds: wholesale shops, auctions, private buyers. Auctions have different requirements to enter, waiting periods, and holding of items that often take much longer than bringing the jewels into a reputable shop. Private buyers might carry the benefit of eliminating red tape, but they are also unlikely to know the real value of a diamond, and are less likely to be moved by official appraisals proving its worth.
Your safest bet is to find a shop like Pleasant Hill Coin & Jewelry Exchange, where there are experts who understand the value of jewelry. In this scenario, you'll see the straightforward sale of a wholesale shop, the professional service of an auction, and the expediency of a private buyer.
How Much Do Diamonds Sell For?
Like any collectible, a diamond's value depends on a number of factors. The most reliable way to figure out how much a diamond will sell for at our shop is to consider the attributes of the Gemological Institute of America, or the GIA. Specifically, look to the GIAs attributes called the four Cs: cut, color, clarity, and carat size. Certain cuts are rare and worth more, or they are in high demand, which has the same effect. Colored diamonds like a yellow or blue stone will raise the value over a clear one.
Pre-owned diamonds usually see anywhere from 10% to 50% of their original value based on these attributes. Bear in mind that the actual value of the diamond jewelry might not reflect what you paid for it, since the jeweler will always mark it up. The percentage mentioned here reflects the diamond's base value.
Contact Us Today
For more information on collateral loans or to buy and sell diamonds,  rare coins, or silver coins at Pleasant Hill Coin & Jewelry Exchange, contact us via phone, or see our contact page for details on how to find us in person.
Our Values
Family owned and operated.
In business for over 25 years
Expert in watches on premises
Expert coin appraiser on staff.
Expert Diamond Dealers
Transparent Transaction