Pleasant Hill Jewelry Pawn Store
Make Fast Cash for Your Jewelry
For a great rate on your pawned jewelry, bring your collection to Pleasant Hill Coin & Jewelry Exchange in Pleasant Hill, CA. No matter your reason for pawning jewelry, we treat every client with the respect and honesty they deserve. Our licensed and trained team has your best interests at heart through our operations. We carefully assess every piece and provide a competitive value we're willing to pay cash. Learn about our process and share your collection with us. We welcome pawns on all kinds of jewelry, and here's the good news: Most of our clients pay their loan back before the loan period ends. That means they get the money they need to make ends meet and get their jewelry back at the end of the month. Learn more about pawning jewelry below. If you have any further questions, feel free to visit or contact us when you're ready!
Professional Exchanges for Your Jewelry Collection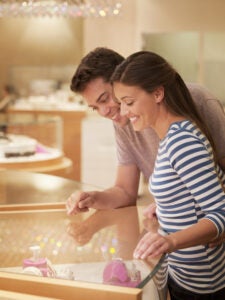 We understand that some people may not have pawned items before. That's OK! We'll walk you through our quick and easy process to help you get fast cash without the fuss. Our pawnshop is honest, trustworthy, and transparent in all our interactions. We believe you deserve a fair and reasonable deal. We always have multiple jewelry experts on hand, which means you can feel confident in knowing a trained professional will evaluate the worth of your valuables. So, what sets us apart from other pawnshops in the area? Pleasant Hill Coin & Jewelry Exchange always:
Promises confidentiality
Confidentiality is critical in our line of work, so make sure to maintain it for our customers. We keep all transactions private, which ensures your experience occurs in a safe and friendly environment. We do not report itemized sales, and you are free to leave with your items if you do not agree to our terms and offers.
Maintains a current license
We're licensed and regulated by local, state, and federal government agencies. Don't trust a pawnshop without adequate permits. Multiple agencies certify our trustworthiness.
Allows you to retain ownership of your jewelry
One of the best qualities of Pleasant Hill Coin & Jewelry Exchange is our willingness to offer pawn loans, in addition to traditional cash transactions. We are not pushy salespeople and will not pressure you to sell if you are not ready or do not agree with our offers.
Pays cash instantly
If you decide to sell rather than pawn your belongings, you can rely on us for immediate payment for all transactions involving jewelry and other items.
Keeps our transactions credit free
Pawning jewelry won't impact your credit score. Because we do not report transactions to credit agencies, you can get the loan you need without harming your score down the line. Enjoy fast cash without any red tape or ties that can harm your credit in the future.
About Our Process
Do you have an attic or closet full of jewelry that you want to finally get rid of? Pawning is a fast, easy way to get cash for your items without worrying about meeting potentially shady people in parking lots or selling each item individually online. That can take hours and hours of time and yield poor results for your investments. Instead, pawning them with us can enable you to get extra cash in your pocket for whatever you need. Pawning your jewelry enables you to pay your bill and rent without incurring credit score dents. More importantly, it prevents you from having to sell prized belongings. All customers who use jewelry as collateral in a short-term loan can retain ownership of the jewelry by paying the loan, with interest, back.
Pleasant Hill Coin & Jewelry Exchange act fairly and responsibly. Our reputation and license rely on it. So, how does pawning work? Here's a step-by-step guide:
Evaluation
We start by evaluating and appraising the pieces you bring in.
Offer
We provide you with an offer that represents the value of the short-term loan. We also provide you with the timeframe for paying the loan back.
Acceptance and Ticket
If the terms are agreeable, we provide you with a ticket. This is very important to keep in a safe place as you will need it to reobtain your jewelry later. We do not take legal possession of your items until you fail to pay the loan back. We keep all your items in a secure location inside a safe as we wait for you to pay the loan.
Return
When you pay the loan back, we return your property to you without any additional information. We do not recoup the loan, and the money remains yours. If you fail to pay the loan back, we will then take possession of your property.
What Kind of Interest Rate Can I Expect on My Loan?
All Pleasant Hill Coin & Jewelry Exchange loans are low-risk and short-term. While we offer fair and honest appraisals and loan terms, your annual percentage rate (ARR) depends on several factors. The value of your objects plays a role in the interest rate, as does the duration of the loan itself. As a result, your interest rate could be anywhere from 2 percent to 35.99 percent. For example, If you take a four-month loan valued at, and your interest rate is 24.12, your interest payments will total 201.00, bringing the total to $2,701.
Our Pawnshop Buys Numerous Kinds of Jewelry
If you have gold you're willing to part with or offer as collateral, then that's your best bet. Gold is easier to sell and fetches a better loan or sale price. However, we take all other kinds of jewelry. You can bring diamonds, necklaces, bracelets, earrings, rings, or silver to our pawn shop in Pleasant Hill, CA. Our expert appraisers will look over your items and move from there. To learn more about the pawning process, we encourage you to contact Pleasant Hill Coin & Jewelry Exchange today or visit our location, just off Interstate 680.
Our Values
Family owned and operated.
In business for over 25 years
Expert in watches on premises
Expert coin appraiser on staff.
Expert Diamond Dealers
Transparent Transaction