Used Diamond Rings for Sale in Pleasant Hill, CA
We Specialize in Buying and Selling Used Diamond Rings
Many who seek to sell a diamond ring are expecting a certain return on their property, partially due to the fact the word "diamond" elicits ideas of wealth, and partially due to expectations of sentimental value. In reality, the value of a diamond ring depreciates like a vehicle. The fact that the ring was once the symbol of a bond, or passed down through generations, doesn't necessarily sway the resale value as much as you might hope.
This is why you need an experienced broker like Pleasant Hill Coin & Jewelry Exchange to get the most value out of your diamond rings. We also have used diamond rings for sale, as well as a wide selection of other jewelry at wholesale prices.
Diamond Ring Resale Value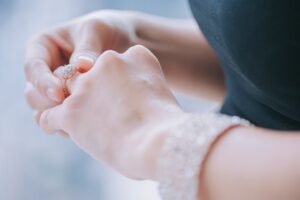 The resale value of a used diamond ring is measured much like the value of a newly-cut diamond ring, except it accounts for the diamond's condition and its history, if any. All diamonds, new or old, are subject to the four Cs: clarity, color, cut, and carats. The value of clarity, color, and carats is consistent, but the value of certain cuts change with trends. A princess-cut diamond that's in high demand today might not be in fashion next year when they are buying marquis cuts.
How Much Can I Sell My Diamond Ring For?
As you may have gathered from the information above, there are so many different variables that factor into the sale value of a used diamond that there is no definitive answer to this question. You'll find estimated variations between 10% and 50% of the original value, but this is more a frame of reference to show how much the return can vary.
What Is My Used Diamond Engagement Ring Really Worth?
It's important to understand that all diamonds are sold new at a mark-up, like every retail item. This means the jeweler will add more cost onto its value to make a profit. This means that no diamond ring you sell to a buying agent will be worth more than what you paid for it, because it will be at a loss even if they match the original value.
Ready to Sell Your Diamond Engagement Ring?
If you have used diamond wedding rings for sale and aren't sure where to start, look no further than Pleasant Hill Coin & Jewelry Exchange. We specialize in providing upfront valuation and no-nonsense processes that remove the guesswork from what can be an emotional and taxing process. Feel free to contact us via phone or see our contact page for details on how to find us in person.
Our Values
Family owned and operated.
In business for over 25 years
Expert in watches on premises
Expert coin appraiser on staff.
Expert Diamond Dealers
Transparent Transaction